Residential Security Alarm Systems
We provide service and installation for entry level alarm system or advanced alarm systems and everything in between. Our experienced team works with each client to determine their specific needs and design a system to meet those needs.
Home Alarm Systems
Honeywell Home LYNX Touch 5210 all-in-one home and business control system features a crystal clear, full-color 4.3" touchscreen with graphic icons and intuitive prompts for easy operation. It features live video on demand, Z-Wave® automation capabilities, advanced alarm communications, garage door notification and control, and remote software upgrade ability.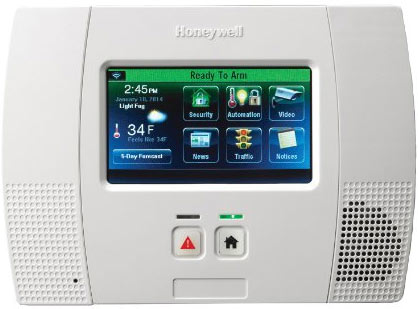 The Wi-Fi® module offers the lowest cost alarm communications (including two-way voice) and remote services solution - saving installation time and reducing monthly operating costs.
LYNX Touch 5210 provides the flexibility whether you rely on mobile phones or VOIP.
Voice announcement of system and zone status
Automatic stay arming
32 user codes (Installer, master, plus 30 secondary user codes
Built-in 85db sounder with voice siren
WI-FI or Cellular radio monitoring options available
Up to 64 programmable wireless zones to protect doors, windows, and interior motion.
Honeywell Home remote features available
Advanced Alarm Systems
The high capacity, feature-rich VISTA-20P includes internet uploading/downloading, graphic keypad support and dual partitions. The VISTA-20P can be installed with or without without telephone lines. This is a great solution for commercial or advanced residential needs.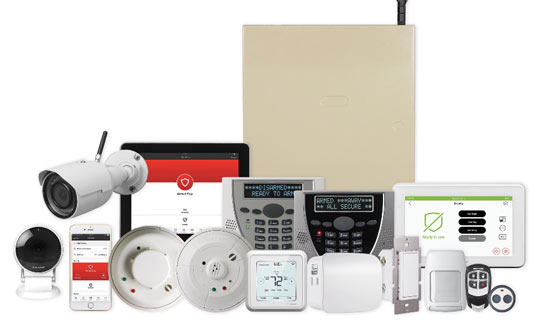 Honeywell Vista-20P alarm control panel with up to 48 zones of protection.
Supports up to 4 Graphic keypad or standard alpha keypads
48 user codes assignable to either partition
Two independent partitions plus one common partition
Up to 15 hard-wired zones - expandable to 48 total hardwire/wireless zones
IP and cellular radio alarm monitoring available
Z-wave thermostats, lights, locks, water shut-off, garage door, and audio control via Tuxedo Touch.
Honeywell Home remote features available
Honeywell Home
With Honeywell Home, you are no longer tethered to your physical control panel to manage your alarm system functions. Control your alarm system, and more, from your smartphone, tablet, computer, or even your smartwatch.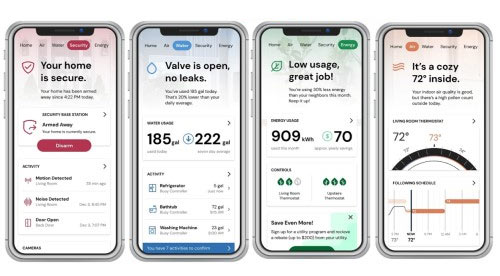 Manage multiple systems
Arm and disarm your alarm system
View video monitor feeds
Get alerts/notifications of event activity
Control additional devices in the Growing Ecosystem which currently includes

SkyBell® Video Doorbell
August Smart Lock®
Honeywell Home Smart
Connected Thermostats
Chamberlain and LiftMaster myQ Smart Garage Door Control
IFTTT (If This, Then That)

Works with Android Voice Recognition®, Amazon Alexa® and Apple Watch®
Common Error Codes
Honeywell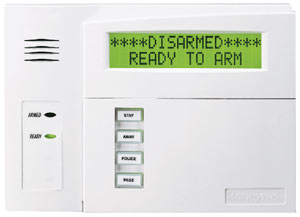 Comm Failure: System is not communicating due to failure with telephone line
Low Bat: System Battery is Low Low
Bat + Zone Number: Low battery in wireless receiver
Rcvr Jam (or Check 90): RF interference in wireless system Alarm 1xx, Fault 1xx, Check 1xx: Communication failure between control and
connected device (xx being zone number)
Modem comm / CC: Control is on line with central station's remote computer
Bell Failure (or check 77): Wiring to external sounder is at a fault
AC Loss: System is working on battery power only. Check circuit breakers and fuses.
Open Circuit (OC): Keypad is not receiving signals
Long Rng Trbl: Back up communication device (if used) has failed.
Telco Fault (or Check 94): Problem with telephone line.
Busy Standby (or dI): If this message is displayed for more than one minute, then the system is disabled.
Gemini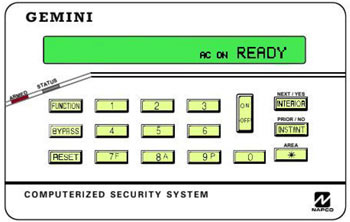 E01-00 AC Power Failure
E02-00 System Low Battery
E03-00 Communication Failure
E04-NN RF Transmitter Failure
E05-NN RF Transmitter Low Battery
E06-NN Receiver Response Failure

E10-NN Keypad Response Failure
E11-NN Keypad Tamper Condition
E15-NN RF Transmitter Tamper
E16-NN Receiver Jammed
E17-NN Receiver Tamper
E18-NN Keyfob Low Battery
E19-NN User Program Memory Error