Home Automation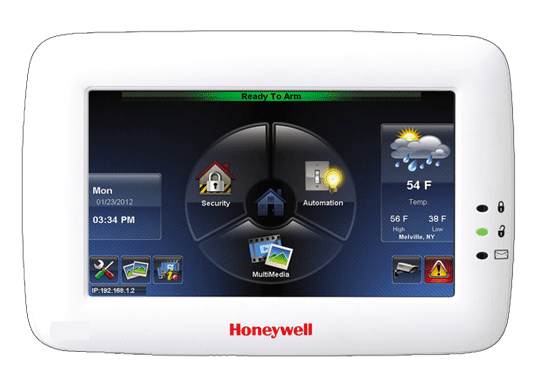 A multitude of home devices can now be controlled from a single app or location.
These can include:
Arm or disarm your security system remotely
Monitor live or recorded video
Control remote locks, lighting, garage doors and HVAC systems
Real time event notifications
The Tuxedo Touch® Graphic Touchscreen Keypad combines security with home and business automation. It seamlessly manages voice commands, video viewing and recording, and control for Z-Wave thermostats, lights, locks and shades.
Tuxedo Touch® lets you expedite everyday tasks using voice control. By speaking commands such as "leaving the shop" or "returning home," you can arm your security system, adjust Z-Wave enabled thermostats, control lights, lock doors and more. Its 7-inch high-definition touchscreen display is easy to use and displays a custom screen when the dashboard isn't in use.
Use it to display pictures, messages, reminders, products, videos, promotions and more. Suitable for home or small business applications, Tuxedo Touch® is your smart home hub for automation and communication.
Manage From Anywhere
Connect and control your in-home devices from anywhere, anytime, on any mobile device with the Total Connect 2.0 app. With the app, you can control lights, locks, cameras, thermostats and more, receive alerts when a smart home device is triggered, and review a complete history of system events.
Download Total Connect 2.0 for Apple and Android Devices
Give Your Home a Voice
Simply say "Hello Tuxedo" to bring your device to life and benefit from hands-free home control. Once activated, the controller can perform a range of tasks, such as arming your security system, controlling lights or thermostats and more. Personally configure built-in commands to suit your lifestyle and needs.
Total Home Control and Energy Management
The controller seamlessly integrates with security cameras as well as Z-Wave enabled thermostats, locks, lighting, shades and flood detection for savings, comfort and convenience. Plus, the built-in web server empowers you to locally control Tuxedo Touch from any device using your home's WiFi network.
Set the Scene
The Tuxedo Touch makes it easy to set scenes that occur on a regular basis, enhancing your comfort and helping you make the most out of your home. You can unlock the front door for a housekeeper at the same time every week, set the lights to turn off when you leave your home in the morning, and so much more.