Commercial Video Surveillance
Making sure that your business is well protected and secured is an important part of your business success.
Professional Security Alarm can provide your business with unmatched security via video surveillance. You have enough to worry about running your business. We can help keep it secure, giving you the peace of mind knowing that it's safe.
Peace of Mind Anywhere, Anytime
Businesses come in all shapes and sizes. With our business video surveillance and security systems, we build solutions custom tailored to your business needs and can be expanded or upgraded as needed. Any time you move or add a location, you can quickly and easily set up your surveillance system. You can monitor your business locations at any time, from anywhere in the world. Videos are high-definition, optimized for your viewing platform, and can even be backed up to the cloud. That means you don't have to spend more on additional data storage.
We take your security seriously and make it our priority to customize your business video surveillance and security systems to your specific needs. We take the time to hear your concerns and preferences to provide you with a system that meets your specific requirements.
Listed below are some common uses and examples of video surveillance needs.
Commercial Video Security Common Uses
Video Surveillance for Retail Locations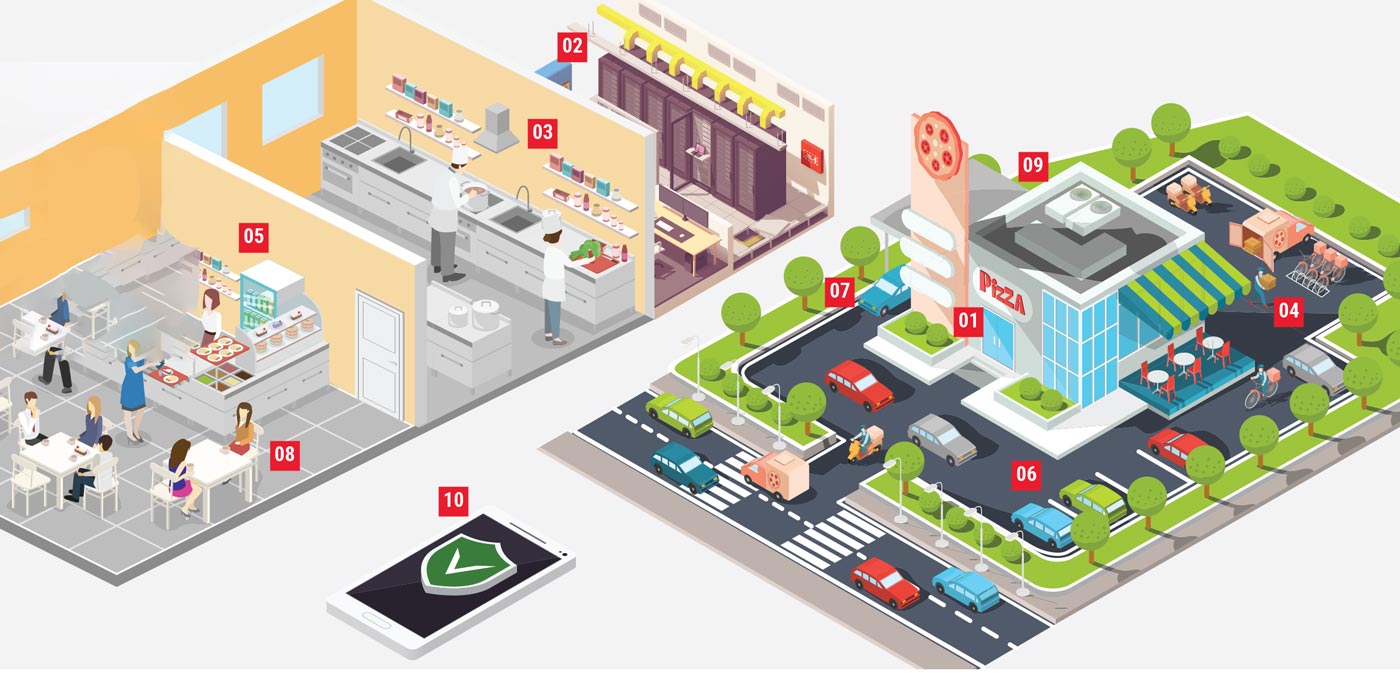 01Restaurant Entrances/Exits:
LightFighter camera technology allows for clear visibility and excellent video quality, even in harsh sunlight and high contrast conditions.
02 Server Room and Cash Room:
Ultra-low light cameras with DarkFighter technology capture highly sensitive areas. Access control can restrict access to servers, cash rooms, and other sensitive areas.
03 Food Prep and Storage Areas:
Stainless cameras and compact domes rated for varying conditions such as heat, cold, and moisture can operate effectively in the kitchen and food storage locations. Low cost thermal cameras can detect temperature changes and provide alerts when conditions become hazardous or have the potential to threaten assets.
04Stock Rooms/Deliveries:
High resolution cameras paired with edge analytics provide detailed content for shipment and stock verification on-site or remotely via a mobile device.
05Corridor Views:
Hikvision's mini camera is discreet and features 90-degree rotation mode for vertical-perspective, enabling capture of human activity and limiting wall coverage.
06Parking Areas:
DarkFighter, ultra-low light, four-in-one imaging cameras cover the entire parking area, producing superior video and images with fewer cameras. This saves on installation costs and maintenance while providing adequate coverage for slip and falls or vandalism.
07Drive-Thru:
LightFighter cameras provide video clarity even when the scene is disrupted by vehicle headlights or other sources of over-exposure.
08 Restaurant Dining Area:
High megapixel fisheye cameras provide wide area surveillance across open floor plans, capturing and storing detailed images of patrons that are available for retrieval when needed while also ensuring privacy protection.
09 Trash Compactor/Dumpster Areas:
Hikvision's AcuSense and ColorVu technologies deliver accurate human detection and filter out other causes of motion, helping to detect dumpster diving or employee theft activity.
10Access on the Go:
Hikvision provides ease-of-viewing for busy franchise owners, with live video, alarm notifications, and system health check status available on mobile phones or tablets.
Video Surveillance for Educational Facilities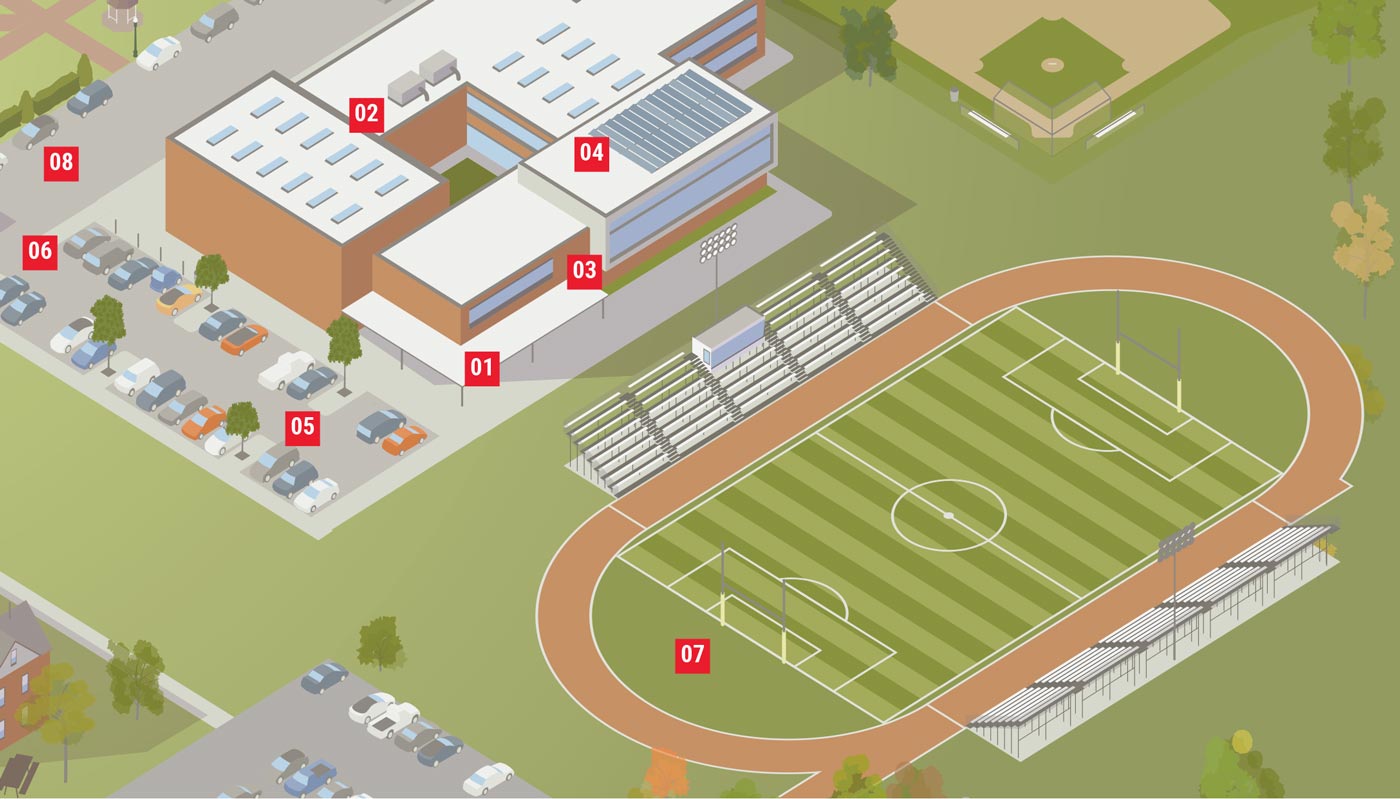 01Building Entrances:
Biometric access control technologies to ensure only verified and authorized students and staff have entrance to facilities.
02Library & Computer Rooms:
Ultra-low-light cameras capture details and activity in dim lighting, where traditional camera technologies do not.
03Lobbies:
Clear visibility and high video quality even in harsh sunlight and high contrast conditions, which is often the case in school lobby areas
04Hallways:
Hikvision's mini camera is discreet and features 90-degree rotation mode for vertical-perspective areas, which ensures that students, not walls, are captured within the camera's scene.
05Parking Areas:
Ultra-low-light, four-in-one imaging cameras cover entire parking areas, which allows better coverage with far fewer cameras.
06Vehicle Access Control:
License Plate Recognition camera with list filtering manages authorized entry and exit, ensuring only pre-authorized student and facility vehicles enter
07Perimeter Sports Areas:
High performance PTZ and PanoVu cameras provide potent surveillance across large open areas, providing school resource officers with a higher level of situational awareness when large crowds are in attendance.
08First Responder:
HikCentral mobile applications allow first responders the ability to remotely view video footage via smart devices.
Video Surveillance for Assisted Living Facilities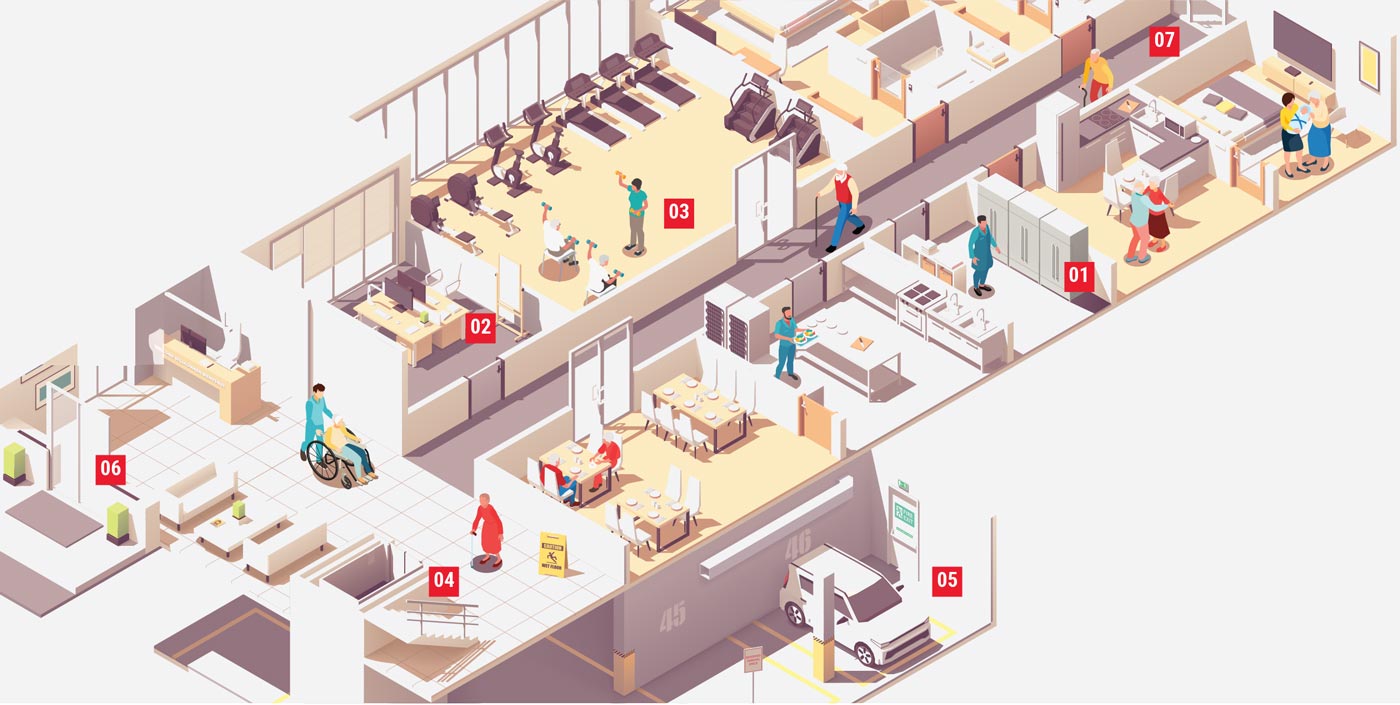 01Pharmaceutical Storage:
Hikvision's high megapixel cameras deliver more accurate video and images of key locations such as drug storage and delivery systems (i.e. Pyxis). Access control provides automatic credential verification for entryways and improved security verification for restricted locations.
02Nurse Station:
Improve accountability and security response times for patient observation with immediate alerts sent to a PC, tablet or smartphone with Hikvision's CMS, HikCentral. Maximize staff efficiency to accommodate limited budgets.
03Memory Care Areas:
Access control and facial recognition allow memory care residents freedom of movement and interaction while preventing dangerous and costly elopement for the facility.
04Hallway/Stairwell Tracking:
Hikvision's discreet mini dome cameras feature 90-degree rotation mode for vertical perspective, and ColorVu for full color images around the clock, capturing human activity and limiting wall coverage even in darkness.
05Parking Lot/Garage:
Hikvision's DarkFighter technology produces superior images in low light with fewer cameras. License Plate Recognition cameras identify and monitor vehicles as they enter and exit the parking garage.
06Entrance/Exit:
TurboHD cameras offer affordable and accurate monitoring of people and assets. Deep learning with access control on our Facial Recognition Terminal supplements or replaces physical credentials. Simple face capture creates a database to easily match persons entering or exiting the facility.
07Perimeter Video:
Hikvision's dual-lens face recognition camera hosts a deep learning algorithm and powerful GPU for instant face image capture and database comparison, with real-time alarm triggering. AcuSense delivers cost-effective perimeter detection by accurately sensing human and vehicle movement, reducing false alarms.
Video Surveillance for Banking/Financial Institutions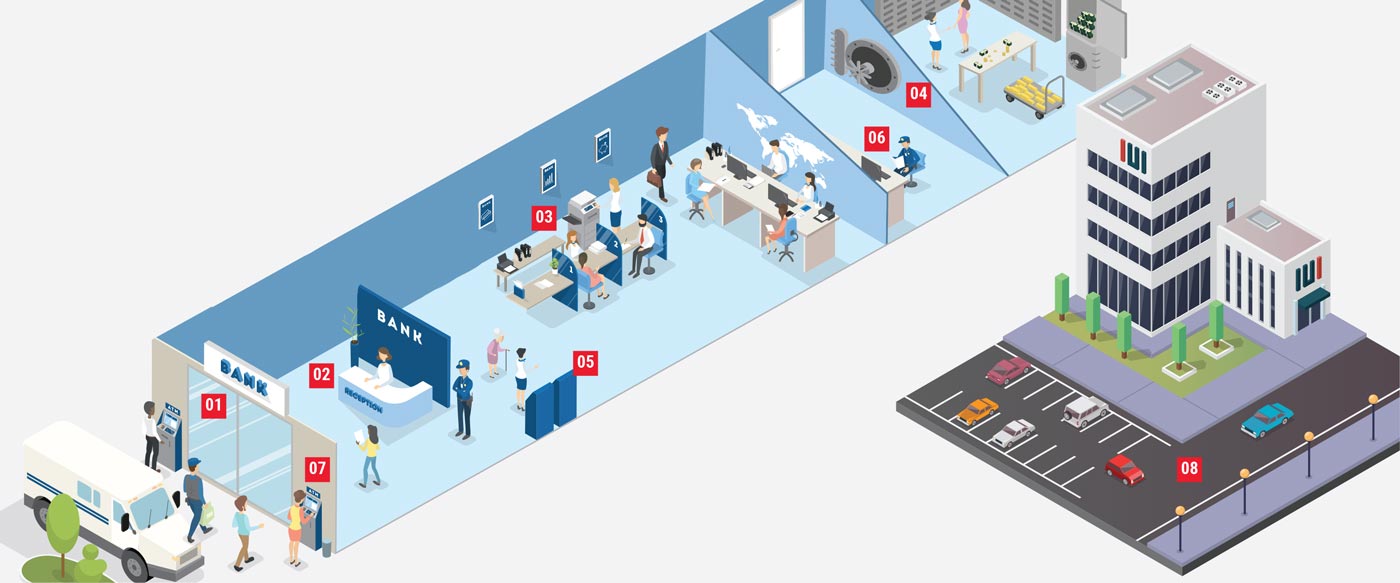 01Entrance/Exit:
Hikvision's facial recognition technology provides clear images for those entering and exiting a facility, even in extreme lighting conditions. This allows for better identification of employees, customers, and potential suspects.
02Lobby:
Large areas with heavy customer traffic require high-definition video. Hikvision's HD fisheye camera can cover a large area, eliminating dead zones and providing affordable, full coverage.
03Patron/Teller Protection:
Hikvision's 4K Ultra HD cameras efficiently record transaction processes and help resolve customer disputes. Hikvision offers effective video surveillance that also blends with décor.
04Vault:
Hikvision's fisheye corner mount camera with metal enclosure works well for high-risk areas, such as the vault, by providing excellent video footage for high-alert surveillance.
05Drop Box Safety:
Hikvision ColorVu technology provides clear, full
color images during daylight and at night. Using
supplemental light and an advanced sensor,
ColorVu improves employee and customer safety,
provides better protection of assets, and more rapid
identification of suspects.
06Security Center or Central Monitoring Station:
HikCentral provides safe and reliable data redundancy and supports advanced video wall displays to monitor all assets across single or multiple branches.
07ATM Machines:
Hikvison's covert camera line provides discreet monitoring for high-risk areas, supports POS overlay, is vandal resistant, all with a sleek look for high-risk areas.
08Parking Lot/Garage Protection:
Our DarkFighter, LightFighter and ColorVu technology provides excellent visual quality in all lighting conditions, including extreme low light and over-exposure.
Thermal Camera Systems Applications
One of the biggest needs for a thermal camera in the COVID-19 pandemic is to efficiently screen for elevated skin temperatures.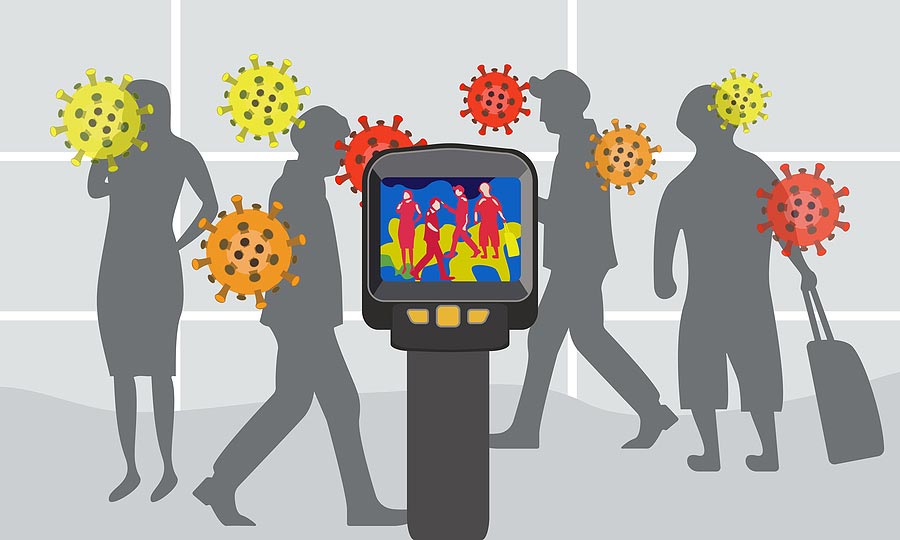 These are available in a hand-held unit and stationary cameras designed to work at ranges up 23 feet.
The handheld thermographic camera is a good mobile screening solution with temperature measurement accuracy of ±0.9° F. The effective measurement distance
range is 3.3 to 6.6 ft., which can satisfy social distancing requirements when held in hand. Built-in audible and visual highlight alarms notify the operator when an elevated
temperature is detected. The camera can also be readily mounted on a tripod and remotely monitored over Wi-Fi using Hikvision's free desktop app or free mobile app.
The short, mid, and long-range cameras can be mounted on a tripod for a portable solution or affixed to a wall or ceiling for a long-term solution. The cameras can measure skin-surface temperature of up to 30 faces at one time, providing faster, more accurate screening. Additional features include face mask detection and automated voice alarms. Limiting temperature measurements solely to detected faces reduces false alarms from other heat sources such as a cup of coffee.
Download a brochure for more info
Additional Thermal Camera Applications
Agriculture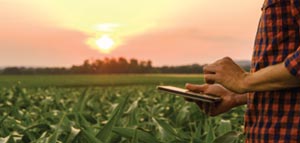 Various agricultural facilities, equipment, livestock, assets and grow areas need perimeter protection from predators, thieves and threat of fire. Performance Series Thermal cameras can easily detect and report these threats.
Commercial Buildings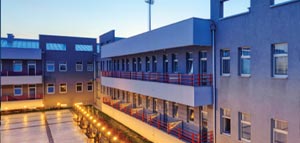 All types of commercial buildings can benefit from thermal, including office space, retailers, hotels, and special purpose. Bi-spectrum Performance Series Thermal technology can protect perimeters, parking lots, restricted areas, roofs, HVAC, and areas with potential fire risks. With better accuracy than traditional security solutions, staff and monitoring centers will only need to respond to relevant human, vehicle, temperature and fire-triggered alarms. Businesses can benefit from reduced security costs and losses, leading to increased profits.
Commercial Laundry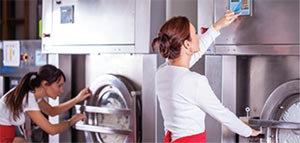 There are more than 25,000 commercial laundry facilities in the U.S. Fires can be caused by lint in and around dryers, oil-contaminated cloth and auto-ignition of unattended laundry sacks in the middle of the night. Some facilities use handheld thermal cameras, which only help when someone is inspecting one item at a time. Fixed thermal cameras can monitor all hazard areas around the clock, and optimize prevention of damage and downtime.
Construction Sites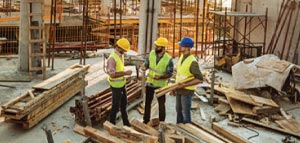 Construction sites, and yards for salvage, scrap, impoundment and evidence are examples of fenced-in open areas containing building frames, tools, materials and other items that are often targeted by thieves and arsonists. These large areas are often dark at night, but this is not a problem for thermal cameras. Standard optical cameras cannot see very far at night, and they often have false alarms due to passing vehicle headlights. Thermal security cameras accurately and instantly detect perimeter break-ins, enabling security personnel to react swiftly to minimize loss. Bi-spectrum cameras are the best choice as they also provide additional identification and safety information for first responders.
Education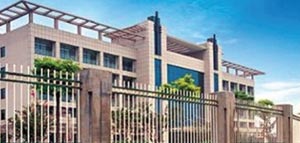 K-12 schools have short-range perimeters that need protection, no-smoking rules that need enforcing, infrastructure that needs predictive maintenance and potential fires to prevent. Performance Series Thermal cameras can detect intruders, lit cigarettes, equipment temperature and fire. These accurate detection capabilities are key components of a complete security solution.
Gas Stations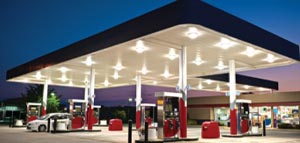 Gas stations usually have optical cameras watching the customers at the fuel pumps, but those cameras cannot detect dangerous and illegal cigarette smoking or fire. In addition to providing full HD color video, the Performance Series Thermal cameras have the special ability to detect fires and lit cigarettes. The camera can alert the station attendants to the danger for quick resolution.
Industrial Facilities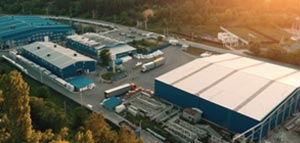 Factories, warehouses, fulfillment centers, laboratories, data centers, and other industrial facilities need perimeter and restricted area protection, predictive maintenance for machinery, and fire prevention for equipment and materials. Performance Series Thermal cameras excel at these tasks.
Infrastructure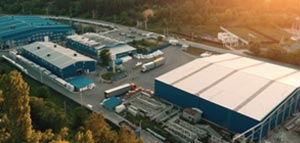 Infrastructure such as power generation and distribution, water, recycling, and composting facilities, oil and gas wells, refineries and antenna sites benefit from short- range perimeter protection and advanced fire detection. Compost piles often ignite internally due to the self-generated heat. Lithium-ion batteries are commonly tossed into recycling bins and cause costly fires at recycling centers. Thermal cameras can detect temperature rises in electrical equipment, compost and recycling piles, helping to prevent fires or detect fires early.
Parking Lots
Nearly all types of parking lots have a range of challenges including vandalism, theft, illegal parking, and stalking at malls, retail stores, commercial buildings, car dealerships, hotels, airports and more. Parking lots are often very dark at night, which reduces the detection range of optical cameras. Thermal cameras easily detect people and vehicles any time of day or night with greater accuracy. The cameras can alert the security guard or monitoring center to take action immediately, and employees can check the thermal video for people lurking in the parking lot before going outside.
Residential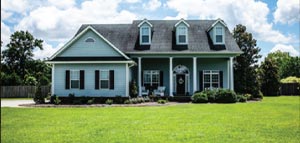 Using standard optical cameras with motion, intrusion or line crossing detection, home surveillance systems often suffer from constant false alarms. As a result of repeated false alarms, homeowner often ignore or disable the system. Fortunately, with the affordable Performance Series Thermal cameras, the residential market can now enjoy greatly reduced false alarms and improved detection capabilities even in visually challenging environments. Homes with garages and other fire risk areas, such as surrounding woods, can utilize the cameras' advanced fire detection to send instant notifications of fires to a homeowner's smartphone.
Retail Stores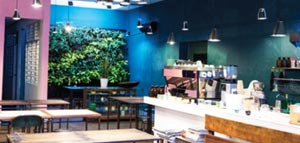 During closed hours, light entering through the windows ordinarily causes false alarms with optical cameras, but thermal DeepinView solves this. When thieves use fog, smoke or intense lights to blind optical cameras, thermal cameras can still see what is happening. Big box retailers with merchandise stored outside the entrances also benefit from the accurate detection capabilities of thermal-optical cameras. Thermal cameras also provide invaluable fire detection capabilities indoors and outdoors with instant remote notification.
Roads & Traffic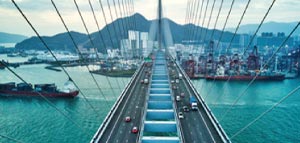 Performance Series Thermal cameras can use directional line crossing to detect vehicles traveling the wrong way. They can also detect people and wildlife approaching the road in common crossing areas. Instant notifications can alert traffic authorities and oncoming drivers to the danger.